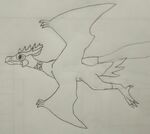 Karl is Jasminka's Elwetritsch who loyal to his master in spite of annoyed with her large appetite.
Personality & Character
Edit
He always has to be the responsible one for Jazminka, but his master somehow found a way to elude him with her sweets. However, there is a particular sweet that he loves but Jazminka didn't bring any as she's well aware that Karl will go on a frenzy if she has one. Sucy accidentally fed him which turn out to be a big mistake, as he winds up damaged entire canteen and accidently humiliated Akko and injured Lotte in process.
Relationships
Edit
Sucy Manbavaran/Green Valkyrie
Edit
He and Sucy are good friends. Sucy once accidentally provided a specific candy he was forbidden to eat causing him to go into a frenzy that nearly demolised the school.